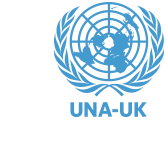 The United Nations Association – UK (UNA-UK) is the only UK charity devoted to building support for an effective UN, and a vibrant grassroots movement campaigning for a safer, fairer and more sustainable world.
In 1945, the creation of the UN reflected the hope for a better future. Since then, UNA-UK has enabled ordinary people to engage with that promise, by connecting people from all walks of life to the UN and influencing decision-makers to support its goals.
Today, the need for the UN has never been greater. Thanks to the organisation, millions of people now live longer, safer and healthier lives. But many have been left behind.
Far too many people still die each year from violence, disasters and deprivation. Human rights violations persist in all corners of the globe, and humanitarian emergencies are on the increase. 
War and persecution have forced more people 
to flee their homes than at any other time since records began.
These problems are not confined to one country. Nor can they be tackled in isolation. The UN is the only organisation with the reach, remit and legitimacy to address the challenges we face.
Over the last two years, the UN has demonstrated its ability to forge global solutions through two landmark agreements: the Paris Agreement on climate change and the 2030 Agenda for Sustainable Development. Making these commitments count – for the world's most vulnerable people and for the future of our planet – will require a wholesale transformation of our economies and societies. This, in turn, will need global cooperation and public buy-in on a scale that has never been seen before.
UNA-UK serves as a bridge between governments, the UN and the public. 
We lobby for joined-up thinking on peace, development and human rights, and for strong action on climate change. We work with experts and practitioners to find new ways to tackle the challenges we face. Through education and training, we equip young people to play a role in international affairs. And by demonstrating why the UN matters, we encourage people to act on their responsibilities as global citizens.
Our members and supporters multiply these efforts at the local level, and our sister UNAs around the world do so internationally. Together, we form a critical mass of support for a strong, credible and effective United Nations.
Natalie Samarasinghe


Executive Director, UNA-UK
Editor, Climate 2020

To make a donation, find out more or get in touch, please visit www.una.org.uk